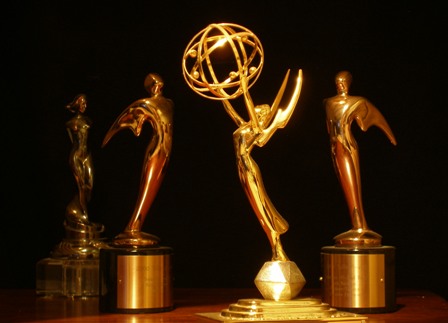 2000 Telly Award
2002 Anoush Award
2004 Emmy Award
2005 Telly Award
Lets get to know Mark a little better.
Mark's IMDB resume

Mark Mardoyan is an Multi-Camera Director whose work covers a wide range of television including: Live Concerts , Award Shows, Infomercials, Workout Videos and non-scripted shows (talk shows, etc.). He has an uncanny way of making multiple cameras seem like an extension of his own eye and creative imagination.

Much like a great chess player who anticipates many moves ahead, Mark directs all the camera operators toward an end result that keeps an audience interested and entertained.

Being active as a Live Entertainment Director since 1984, and has Directed hundreds of shows ranging from politics with President Richard Nixon & Nancy Reagan, to Live concerts that vary from The Hollywood Bowl Orchestra to legendary Rock's, Carlos Santana.

The range of other shows include: ABC Christmas Ice skating special "Holiday on Ice", several Infomercials and recently, the "World Magic Awards" hosted by Sir Roger Moore, it was the first magic show captured in High Difinition which earned the highest rated show ever aired on "My Network" LA's Channel 13, Masters of Illusion television series, Impossible magic the series, " Heroes among us", "Congressional Medal of Honor" Arrival of the Endeavor Space shuttle to Los Angeles, "Loving the Silent Tears" the musical, Rose parade 2014 & 2015, AACTA awards which is Australias international academy awards for 5 consecutive years, The Movie Guida awards, just to name a few.
With several industry Awards as well as an EMMY for his camera work on 2004 LA Marathon, Mark's been written about in two industry magazines regarding technical aspects of producing reality television - "Video Systems" & "Millimeter Magazine".

He loves to rehearse, rehearse and rehearse, however, he also loves a challenge and is particularly adept at "Live" Broadcast Multi-Camera Directing where there is no script and no rehearsals. Working in the moment yet staying one step ahead at all times fuels him and reveals an uncanny "inner knowing" in the way he anticipates an unfolding story as it emerges, telling it with as much truth, sensitivity and attention to detail as possible while allowing it to lead him to an often unknown ending rather than trying to impose one of his own making.
Daniella Monet's video on the left, was all shot with our new fly-pack system and video Directed by Mark Mardoyan for In Sync Productions
2016 AACTA Australian Academy Awards 7 Camera Live
2015 AACTA Australian Academy Awards 7 Camera Live
Kung Fu Panda III premier for 20th Century FOX 6 Camera Live
2016 Movieguide Awards Reelz Channel 7 Camera Live to tape
2015 Movieguide Awards Reelz Channel 7 Camera Live to tape

2015 Dalai Lama 80th Birthday and Global Summit 6 Camera Live
2014 Tournament of the Roses parade, RFDTV 9 Cameras Live
2013 Tournament of the Roses parade, RFDTV 9 Cameras Live

2012 Miss World Vietnam 7 Camera Live

Arrival of the space shuttle Endeavor to Los Angeles Event Producer / Direct
Loving the silent tears The musical 20 Camera live to tape
TED-X at Caltech 4 Cam Live to tape
2012 Medal of Honor 5 Cam HD Live to tape
2011 Medal of Honor 5 Cam HD Live to tape
Global Zero Summit, "World without Nuclear weapons " 5 Cam HD Live to tape
SMTV Musical "The Real Love" 11 Cam HD Live to Tape
2010 Hollywood Christmas Parade, FOX Television 9 Cam HD Live to Tape
2009 Hollywood Christmas Parade, My network TV FOX 9 Cam HD Live to tape
2007 World Magic Awards "My Network TV" Channel 13's highest rated show 10 Cam HD Live to Tape
2008 World Magic Awards "My Network TV" 10 Cam HD Live to Tape
2009 World Magic Awards "My Network TV" Fox 8 Cam HD Live to Tape
"2008 Heroes among us, " My Network TV national broadcast 12 Cam HD Live to tape

2008 Spirit of Christmas 8 cam's HD Live to tape

2009 Grove Christmas Tree Lighting Celebration 6 Cam's HD Live to tape
Masters of Illusion 01/05/09 8 cam's HD live to tape
Masters of Illusion 01/12/09 8 cam's HD live to tape
Masters of Illusion 01/19/09 8 cam's HD live to tape
Masters of Illusion 01/26/09 8 cam's HD live to tape
Masters of Illusion 02/02/09 8 cam's HD live to tape
Masters of Illusion 02/09/09 8 cam's HD live to tape
Masters of Illusion 02/16/09 8 cam's HD live to tape
Masters of Illusion 02/23/09 8 cam's HD live to tape
Masters of Illusion 03/02/09 8 cam's HD live to tape
Masters of Illusion 03/09/09 8 cam's HD live to tape
Masters of Illusion 03/16/09 8 cam's HD live to tape
Masters of Illusion 03/23/09 8 cam's HD live to tape
Masters of Illusion 03/30/09 8 cam's HD live to tape
Masters of Illusion 04/06/09 8 cam's HD live to tape
Masters of Illusion 04/13/09 8 cam's HD live to tape
Race to Erace MS featuring Earth Wind and Fire with Donna Summer 6 Cam Live to Tape
Race to Erace MS featuring the "Eagles" 6 Cam Live to Tape
Rock Royalty Featuring Earth Wind & Fire, Natalie Cole For Race to Erase MS 5 cam Live to Tape
The Person of the Year Tribute, Paul Simon (NARAS) 7 cam live to Tape
The Latin Recording Academy, Person of the Year Tribute (NARAS) 7 cam live to Tape
Kellogg's Workout / Cooking DVD 3 cam live to tape
Naturally Delicious cooking show, with Ann Gentry (ECHO Entertainment) 3 Cam 24P HD
Sweet Truth Cooking show (ECHO Entertainment) 3 Cam 24P HD
New Jewish Cuisine (100+ Episodes) PBS Cooking Show (JTN) 5 cam live to Tape
Bedside Manner, Talk show (ECHO Entertainment) 3 Cam 24P HD
Simple Wisdom Talk Show, Several Episodes on PBS (JTN Production) 5 cam live to tape
Playboy Jazz festival at Hollywood Bowl 4 Cam Live to screen
South Pacific world music festival in FIJI (CSM Productions) 6 Cam Live to Tape
Holiday on Ice (2003 Christmas Ice skating special for ABC), hosted by Nancy Kerrigan 5 Cam Live to Tape
Holiday on Ice (2004 Christmas Ice skating special for NBC) 5 Cam Live to Tape
Holiday on Ice (2006 Christmas Ice skating special for FOX), hosted by Nancy Kerrigan 5 Cam Live to Tape
Celebrity Profile PBS Talk Show (JTN / PBS) 4 cam live to Tape
American Bible study with Paul Ervin (On going series) 4 cam live to tape
ESPN's World Series of Poker (Las Vegas, NV) 6 cam live to Tape
Beach Body Power 90X workout video series 4 cam Live to tape
C-Span's Nixon's 25th. Inauguration Celebration Coverage, Pool feed Director 5 cam live to Satellite
C-Span's Live at the White House Roundtable (Ronald Reagan Library) 4 cam live to Tape
C-Span's what's Wrong With America Today (Ronald Reagan Library) 5 cam live to Tape
Prime Network's Golden Glove Boxing 5 cam live to Tape
Miss California Pageant (San Diego Convention Center) 6 cam live to Tape
Miss Teen California - EPK & Pageant Coverage 6 cam live to Tape
Googoosh Live at the Great Western Forum 9 cam live to Tape
Urban League Awards at the Century Plaza Hotel (7 Years Consecutive) 4 cam live to Tape
Greek Theatre's Bijan / Live in Concert at the Greek Theatre 9 cam live to Tape
Whiskey a GOGO 35th reunion featuring the DOORS (Live Web cast) 4 cam live Web cast
43rd Annual Writer's Guild Awards at the Beverly Hilton 4 cam live to Tape
1st & 2nd Annual Dance Awards 4 cam live to Tape
1st Annual Trailer Hitch Awards (Writers Guild Theatre) 4 cam live Web cast
World Image Concert (The Wadsworth Theatre) 6 cam live to Tape
Drum Wars - Carmine and Vinnie Appice 6 cam live to Tape
B.B. King in Concert (Universal City Walk) 7 cam live to Tape
Crystal Gayle in Concert (The Pomona Fairgrounds) 5 cam live to Tape
Santana in Concert (Kaiser Convention Centre, Oakland, Ca.) 5 cam live to Tape
David Bowie Live in Concert At The Hollywood Palladium 4 cam Live to Tape
Lee Greenwood in Concert (The Pomona Fairgrounds) 5 cam live to Tape
Burt Reynolds Live (The Pomona Fairgrounds) 5 cam live to Tape
Gospel Music's, Fountain of Youth (Wilshire Ebell Theatre) 5 cam live to Tape
Everett Cup (ATP) Tennis Tournament, German Live Satellite Feed 4 cam live to Satellite
ComedyCentral.Com At the Impvov (Over 100 Live Stand-up Comedy Acts) 1 to 4 Cam to Tape
3rd., 4th, 5th,& 6th. Armenian Music Awards, The Alex Theatre, 45 Million Hom 8 cam live
Rock'en America's Live for a Smoke-Free America (Wilshire Ebell Theatre) 5 cam live to Tape
Toshiba's Takanaka - Live Concert in America (Toshiba of Japan) 7 cam live to Tape
400+ Local Concerts & Award Shows, since 1984 3 to 15 cam live to Tape
Over 60 Various Commercials & Infomercials 4 to 6 cams to Tape
Universal Studios Movie Premiers 4 Cam live to screen
Wiland-Bell Productions ( PBS Talk Show, And Thou Shalt Honor) On-going series 6 Cam Live to tape
Totally Pets (Animal related show, Hosted by Cindy Garvey for ABC Family Channel 4 Cam Live to Tape
2004 I- Mag. Director for concerts @ Hollywood Bowl (NLCO Prod.) 4 to 6 Cams Live to screen
200+ large scale corporate events (Dominos Pizza, Herbalife, Topperwear ……..) 3 to 7 cams live to screen & satellite